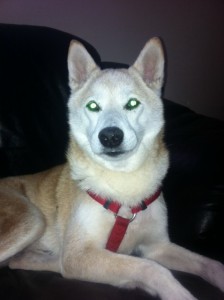 UPDATE- Sammy's foster family has decided to keep him as he is such a great dog and they don't want him to have to move somewhere else! YEAH! Sammy is an older, altered male Shiba Inu that was found in traffic in the middle of an intersection by a cat rescue person.. she stopped traffic, opened her car door, and Sammy jumped in! We're so glad he was trusting enough to get in her car!
Sammy has been with his foster family in S. Florida for a few months and is the BEST dog. His age is probably aprox 11 years old. Originally we thought he he didn't like to play much, but lately he's become playful and more energetic. He still will lay on the couch with you with his head in your lap and keep you company. He gets along with other dogs and cats and seems to just "go with the flow" He is housebroken and crate trained. He loves to go for walks and he walks perfectly on the leash. Sammy is slightly deaf but does well even not being able to hear much. He has been learning some hand signals to help him understand what you want him to do.
All Sammy needs is a place to call his furever home to live out his remaining years. Please contact his rescuer, Toni at katinneed@yahoo.com. Or contact us here at SIRF and we will get your info to her.
---
This is a courtesy listing. Rather than applying to SIRF, please follow the instructions above for contacting the current owner or caretaker. All negotiations regarding the adoption will be carried out privately between you and the current owner/caretaker.